Homescom Reveals Top Cities For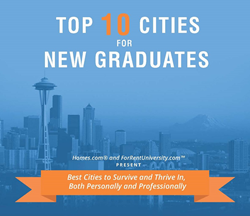 Norfolk, Virginia (PRWEB) May 06, 2014
Around this time each year, a fresh group of college graduates eagerly seek to begin a new phase in life ? trading student status for professional titles. The National Center for Education Statistics projects more than 1.6 million students will graduate with bachelor?s degrees in the Class of 2014. Setting their sights on jobs across the country, recent grads must weigh whether to stay in their current college town versus moving to a new city to begin planting roots.
In a still-recovering economy, where the job market remains uncertain and the repayment of student loans is a daunting reality for many recent grads, the ideal place for many may be wherever that first job is landed. Nonetheless, some cities are more promising than others, providing college grads exceptional opportunities for growing careers and affordable housing.
Homes.com has teamed up with sister site, ForRentUniversity.com, to comprise a list of the ten most favorable cities for new college graduates. The best cities to live, work and play were all chosen based on mean entry-level income, average price of a one-bedroom apartment, proximity to postgraduate institutions as well as number of social opportunities. The list also analyzes unemployment rates and the percentage of the population identified as millennials (ages 25 to 34). For more information, please view this shareable infographic.
Homes.com Top 10 Cities for New Grads
1.Atlanta, Georgia

Mean entry level income: $ 43,000

Median price for a one-bedroom apartment: $ 800

Unemployment Rate: 6.9 percent

19 nearby colleges/universities

Average salary for recent college grads in Atlanta is 21 percent higher than the national average. Tied with Raleigh and Houston for the lowest average rent, this city is extremely friendly to recent grads with minimal savings. The city is also home to a number of post-secondary educational institutions including Clark Atlanta University and Georgia Institute of Technology, among others?perfect for grads wishing to attain additional degrees. According to Busy Travelers, Atlanta holds the country?s third largest concentration of Fortune 500 companies and is the global headquarters of corporations including The Coca-Cola Company, The Home Depot, Delta Air Lines and UPS.
2. Dallas, Texas

Mean entry level income: $ 38,000

Median price for a one-bedroom apartment: $ 900

Unemployment Rate: 5.8 percent

17 nearby colleges/universities

Well above the national average, Dallas? 8.67 percent rental vacancy rate results in notably affordable rent in relation to most comparable metros. With more money for leisure opportunities, renters can enjoy the many attractions and activities Dallas has to offer. Home to five professional sports teams, one for every major American team sport, Dallas offers an abundance of athletic events, entertainment and professional options to residents.
3. Houston, Texas

Mean entry level income: $ 41,000

Median price for a one-bedroom apartment: $ 800

Unemployment Rate: 5.7 percent

14 nearby colleges/universities

Houston boasts one of the highest average incomes for entry-level jobs and is home to 24 Fortune 500 companies. Coupled with a relatively low cost of living, commuter-friendly transportation and a promising job market, Houston is ideal for young people looking to launch their careers.
4. St. Louis, Missouri

Mean entry level income: $ 38,000

Median price for a one-bedroom apartment: $ 960

Unemployment Rate: 8.2 percent

7 nearby colleges/universities

St. Louis topped Forbes' 2012 list of happiest places for post-graduates, earning accolades based on overall career happiness among those with jobs requiring less than two years of work experience as well as the average cost of living-adjusted salary in each city. Encouraging the enjoyment of public attractions of all residents, St. Louis offers free entry into the majority of the city?s art institutions, science exhibits, museums, theatres and zoos ? making it the perfect entertainment location for cash-strapped college graduates.
5. Minneapolis/St. Paul, Minnesota

Mean entry level income: $ 32,000

Median price for a one-bedroom apartment: $ 900

Unemployment Rate: 5.0 percent

10 nearby colleges/universities

With more than 50 percent of homes in Minneapolis listed as rentals and roughly 5 percent of them currently unoccupied, finding ?home sweet home? is relatively easy. A city with a dynamic music scene, a physically fit mantra, professional sports teams and a vibrant art, theater and literary culture, Minneapolis is worth a second look for college grads. More than 82,000 Minneapolis residents are between the ages of 25 and 34, making it easy for recent grads to find and fit into social circles. Home to large company headquarters, including PepsiCo, Target and General Mills, Minneapolis offers a variety of job opportunities for young career seekers.
6. Raleigh, North Carolina

Mean entry level income: $ 35,000

Median price for a one-bedroom apartment: $ 800

Unemployment Rate: 6.2 percent

10 nearby colleges/universities

Raleigh prides itself on having a ?small town? feel, which can be alluring to many new college grads trying to escape the city. As the location of three universities, Raleigh?s cost of living is one of the lowest on the list. Combining Raleigh?s vibrant social, sports, cultural and arts scenes with its abundant career opportunities and mild year-round climate, it?s hard to imagine a more desirable place to launch into the professional world.
7. Denver, Colorado

Mean entry level income: $ 35,000

Median price for a one-bedroom apartment: $ 970

Unemployment Rate: 6.5 percent

9 nearby colleges/universities

Denver?s moderate unemployment rate makes it more easy to find a job than most metro areas. Basketball, baseball, football, soccer, lacrosse, hockey, rugby ? Denver?s got it all when it comes to professional sports teams, supplying residents with ample career and entertainment opportunities to choose from. The city also houses the most bars per capita, as well as an energetic and affordable social scene for recent college grads to enjoy.
8. Seattle, Washington

Mean entry level income: $ 39,000

Median price for a one-bedroom apartment: $ 1,300

Unemployment Rate: 6.0 percent

10 nearby colleges/universities

College graduates are flocking to Seattle in favor of the enticing combination of work and social possibilities. Home to prominent corporate headquarters ? including Starbucks, Nordstrom, Microsoft and Amazon.com ? Seattle has endless entry-level job opportunities for young college grads. This coastal seaport city prides itself on its efforts to provide residents with a clean and green environment. From lush forests and sparkling lakes to manicured parks and untouched wildlife preserves, there are always new gorgeous views and sites to uncover and explore.
9. Boston, Massachusetts

Mean entry level income: $ 46,000

Median price for a one-bedroom apartment: $ 1,590

Unemployment Rate: 5.9 percent

21 nearby colleges/universities

Massachusetts is a vibrant city full of fun activities and things to explore. As such, Boston boasts one of the largest populations of 18 to 24 year olds, making it an excellent choice for new college graduates. Whether spending the day taking in Boston?s prominent museums and parks or unwinding for the evening at one of the city?s exclusive rooftop lounges or underground clubs, there is always something for everyone. Although Boston?s average rent is nearly double that of other cities on the list, it does tie for the highest average entry-level income.
10. Washington, District of Columbia

Mean entry level income: $ 46,000

Median price for a one-bedroom apartment: $ 1,600

Unemployment Rate: 5.1 percent

6 nearby colleges/universities

Holding the second lowest unemployment rates and boasting one of the highest entry-level salaries on the list, the nation?s capital is of strong appeal to new young professionals. While the federal government is the city's top employer, there are an abundance of promising career prospects in technology, international business and hospitality. From vivacious nightlife and world-class dining to world-renowned museums and cultural attractions, there are endless forms of entertainment options for 20-somethings.
Visit Homes.com to find your perfect rental space or connect with one of many property managers in your ideal city. For more information and ideas to make the most of your space, visit the Homes.com Idea Gallery.
View a full list of sources used for this release on the Homes.com Press Site.
About Homes.com
As one of the nation?s top online real estate destinations, Homes.com inspires consumers to dream big. From affordable houses to luxurious estates, condos, apartment rentals and more, Homes.com features more than 3 million property listings and exclusive distribution of over 20,000 apartment listings from ForRent.com in a user-friendly format, making finding your next home easy. Visitors to the Homes.com blog will find a collection of rich information and posts on DIY projects, painting, organization tips and more, providing the ultimate resource for everything home related. From finding your first apartment to buying your first home, upgrading, downsizing and everything in between, Homes.com is an inspiring and engaging partner in every phase of the home buying or renting process.
Visit Homes.com and download the Homes.com Mobile App, Rentals Mobile App, or Mortgage Calculator to assist in your home search. For home decor tips and more, visit Blog.Homes.com.
For an in-depth look at this unique generation of renters and helpful tips for marketing to them, download the ?Marketing to Today?s Student Renter? white paper today!
About ForRentUniversity.com?
ForRentUniversity.com? is an all-inclusive apartment finder specifically designed for students and parents looking for off-campus housing. ForRentUniversity.com guides both students and parents through the search steps of finding the ideal off-campus apartment by offering a variety of search options based on specific wants or needs. Both groups can search off-campus housing with ForRentUniversity.com, the mobile site or video using filters such as location, budget, leases, amenities and more. ForRentUniversity.com also provides an interactive social community for students and parents, so that they can gain insight while searching as well as share their own experiences.
Colorado Crush Colorado Crush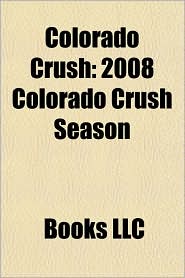 Purchase includes free access to book updates online and a free trial membership in the publisher's book club where you can select from more than a million books without charge. Excerpt: The 2008 Colorado Crush season is the sixth season for the franchise. The Crush finished the regular season with a 6-10 record, good enough for the playoffs as the 5th seed in the American Conference. In the Wild Card round, they defeated division rival Utah, 49-44. In the Divisional round, they were defeated by the defending champions, the San Jose SaberCats, 51-64. at Pepsi Center, Denver, Colorado 2nd Quarter: 3rd Quarter: 4th Quarter: Bye Week at American Airlines Center, Dallas, Texas 2nd Quarter: 3rd Quarter: 4th Quarter: at Allstate Arena, Rosemont, Illinois 2nd Quarter: 3rd Quarter: 4th Quarter: at Pepsi Center, Denver, Colorado 2nd Quarter: 3rd Quarter: 4th Quarter: at Pepsi Center, Denver, Colorado 2nd Quarter: 3rd Quarter: 4th Quarter: at Quicken Loans Arena, Cleveland, Ohio 2nd Quarter: 3rd Quarter: 4th Quarter: at Sprint Center, Kansas City, Missouri 2nd Quarter: 3rd Quarter: 4th Quarter: at Pepsi Center, Denver, Colorado 2nd Quarter: 3rd Quarter: 4th Quarter: at Pepsi Center, Denver, Colorado 2nd Quarter: 3rd Quarter: 4th Quarter: at EnergySolutions Arena, Salt Lake City, Utah 2nd Quarter: 3rd Quarter: 4th Quarter: at Pepsi Center, Denver, Colorado 2nd Quarter: 3rd Quarter: 4th Quarter: at HP Pavilion at San Jose, San Jose, California 2nd Quarter: 3rd Quarter: 4th Quarter: at Pepsi Center, Denver, Colorado 2nd Quarter: 3rd Quarter: 4th Quarter: at Van Andel Arena, Grand Rapids, Michigan 2nd Quarter: 3rd Quarter: 4th Quarter: at US Airways Center, Phoenix, Arizona 2nd Quarter: 3rd Quarter: 4th Quarter: at Pepsi Center, Denver, Colorado 2nd Quarter: 3rd Quarter: 4th Quarter:
Price: $ 10.09
Sold by Barnes & Noble
Real Madrid Vs As Roma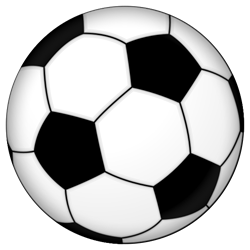 Dallas, TX (PRWEB) July 28, 2014
Ticket Down is reliable source for cheap Real Madrid vs. AS Roma tickets in Dallas, TX at the Cotton Bowl. The 2014 Guinness International Champions Cup began on July 24th in the USA and it is an eight team tourney. The tournament participants are top notch teams from around the world including teams from La Liga, Serie A, English Premier League, and Superleague Greece. The 2014 teams that will battle it out on the pitch include: Manchester United, Manchester City, Olympiacos, Inter Milan, Liverpool, AS Roma, and Real Madrid. The latter two teams will compete against each other on July 29 from the Cotton Bowl in Dallas, Texas.
The legendary Cotton Bowl Stadium opened way back in 1930 and it can accommodate 92,000 fans for any given sporting event. The facility has been hosted countless college football teams over the years. Some of the events hosted by this historical venue are: the State Fair Classic, Red River Rivalry, and Heart of Dallas Bowl. Interestingly, the venue was one of the facilities used at the last World Cup that was played on American soil, which was won by Brazil. The facility was also once home of the Dallas Burn from Major League Soccer and has been home to many international friendly games.
During the International Champions Cup (formerly known as World Football Challenge) Real Madrid has been the most victorious club. They won two of three tournaments under the World Football Challenge name, and won the inaugural International Champions Cup event a year ago when they beat Chelsea in the finals. This year, their multi-talented team will undoubtedly hope to keep the winning streak going by bringing their biggest stars to this match. Among the players that soccer afficandos in Dallas will desire to see wearing the Real Madrid jersey include Cristiano Ronaldo, Sergio Ramos, Marcelo, James Rodriguez, F?bio Coentr?o, Xabi Alonso, and Iker Casillas.
AS Roma is a part of the Italian league, Serie A, and their home is in Rome. With the exception of one season, the team played in the top league in Italy, and has now played in the upper division for 63 straight years and 82 total years. The club finished second a year ago in Serie A and will look to take home the trophy for the 2014 Guinness International Champions Cup. Among the players that diehard soccer fans in Dallas, TX at the Cotton Bowl will want to see play in this pivotal game include Francesco Totti, Daniele De Rossi, Ashley Cole, Miralem Pjani?, and Maicon.
Real Madrid and AS Roma will be playing in Group A of the tournament. The other talented soccer teams competing in Group A include Manchester United and Inter Milan. At the end of the round-robin play in their group, the team with the most points will advance to the championship game against the team with the most points from Group B, which includes soccer powerhouses Milan, Liverpool, Manchester City, and Olympiacos.
About TicketDown.com:
Ticket Down delivers tickets to sold out concerts and events worldwide when no one else can, and they do so at discounted prices. This popular ticket exchange also has Real Madrid vs. AS Roma tickets at the Cotton Bowl on Tuesday, July 29th. Add promo/coupon code SOCCER-2014 for added savings on any ticket order.
Note: Ticket Down is not associated with any of the soccer teams or venues mentioned in this release. The names that are used in this release are purely for descriptive purposes. We are not affiliated with or do we endorse any artists or venues in this release.
Check out our discount codes online for all upcoming events. Ticket Down has low overheads which allow this well-known ticket site to keep prices low.
The Condo Guy Aka Alan
The Condo Guy AKA Alan Shaffer Reviews


Dallas
1933 Cedar Springs Rd
Average Rating: 5 out of 5 (5 Reviews)
Review by Nina P.
Alan really is The Condo Guy! He was a referral from a coworker and we couldn't be happier. He came in and gave us his expert opinion on what absolutely…
Rating: 5

Review by Hannah R.
Once again, Alan came through for us! We loved our new house and the area, but weren't crazy about commute times. After thinking about it and talking to…
Rating: 5

Review by M P.
I can tell you quite a bit about Alan Shaffer, having known him since about 1997. He is a high energy professional who manages and keeps track of the…
Rating: 5


Preston Tower Condominiums Reviews


Dallas
6211 W Northwest Hwy
Average Rating: 4 out of 5 (2 Reviews)
Review by Dan D.
Condo secret in North Dallas, where can you find condos ranging in square footage from 700-1700 starting under 70k? As a Realtor representing buyers and…
Rating: 4

Review by Brian E.
OK, you have to appreciate this building for what it is. It's an old tower and many of the condos still have shag carpet and avocado green appliances. But…
Rating: 4


Bb Realty Group Keller
B&B Realty Group – Keller Williams Elite Reviews


Dallas
8201 Preston Rd
Average Rating: 5 out of 5 (2 Reviews)
Review by Jo H.
*David Heape*
aka Mr. Addison (TX) 2013
*Realtor Extraordinaire*!
no pressure! always available! patient! specific! goes the extra mile! very, highly…
Rating: 5

Review by Alex C.
Brian is a very intelligent, positive individual. I have had the pleasure of working with him during one of the biggest decisions of my life: purchasing my…
Rating: 5


Texas Roadhouse Reviews


Garland
5012 N. President George Bush Hwy.
Average Rating: 4 out of 5 (66 Reviews)
Review by Teresa T.
Only complaint is the wait – but I'm sure that comes with the price of going to dinner at 730pm with a party of 8
(we did make a reservation as well)…
Rating: 4

Review by Rachel R.
As a past Texas Roadhouse server, I always have high expectations when I visit any of their restaurants. We were warmly greeted when we walked in and seated…
Rating: 4

Review by Chi N.
Service was pretty good, no complaints about that. Their rolls are pretty good, but I did not enjoy the cinnamon butter as much. That's probably just me…
Rating: 3


Tx Bank Owned Property
http://freeforeclosurebrokerslist.com 214-636-7138 How To Buy Foreclosures, Bank Foreclosures Dallas Tx,Bank Foreclosures Frisco,Bank Owned Properties For Sa…
Latest Dallas Short Sale News
Treasury sells 2-year notes at highest yield since 2011
Richard Fisher , president of the Federal Reserve Bank of Dallas, said in an opinion column in The Wall Street Journal that keeping the central bank's key lending rates too low for too long could be dangerous. A slight shift in expectations about when …
Read more on MarketWatch


US midday: Stocks recover from early swoon
Separately, the Dallas Fed's Manufacturing Activity gauge rose to 12.7 in July from 11.4 in June, falling short of expectations for an increase to 12.8. Later on in the week will … A sale of $ 29bn in 2-year US Treasury notes attracted lower demand …
Read more on Coutts


Autumn, when airfares to Europe fall
In early July we saw a short-lived sale from Delta with $ 725-$ 825 round-trip fares from Dallas to London, Barcelona and Madrid for peak July and August travel. Those fares were more than $ 1,000 cheaper than regular prices, since average summer airfares …
Read more on Dallas Morning News


Ncircle Entertainment Announces Exclusive Content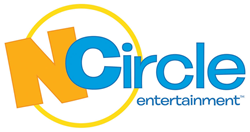 Dallas, TX (PRWEB) July 28, 2014
NCircle Entertainment, the largest independent studio for children?s non-theatrical DVDs, announces the release of exclusive content on Hulu. Starting today, subscribers will be able to instantly stream NCircle content on their TV, computer, and mobile device on the free, ad-supported Hulu and Hulu Plus subscription service.
NCircle specializes in the sales, marketing, and distribution of children and family entertainment. As a trusted brand for high-quality, age-appropriate content, NCircle?s portfolio includes many of the most loved and best-selling children?s brands. In addition to their DVDs, NCircle will now be offering content from various brands on Hulu exclusively for subscribers to watch instantly.
NCircle brands currently offered on Hulu:


????Animal Atlas
????Dino Dan
????The Gruffalo
????Mike the Knight
????Room on the Broom
????The Snowman
????The Wiggles
????Yo Gabba Gabba! Live!
NCircle brands coming soon to Hulu:
????The Cat in the Hat Knows a Lot About That!
????Octonauts
To watch all titles offered by NCircle on Hulu, visit the NCircle page: http://www.hulu.com/companies/ncircle.
More About NCircle Entertainment:

Key brands currently in NCircle?s vast library, and available on DVD, include Disney Jr.?s The Octonauts, PBS?s The Cat in the Hat Knows a Lot About That! and Sid the Science Kid, Nick Jr.?s Pocoyo, Sprout?s The Wiggles, as well as the Academy Award Nominated Shorts The Gruffalo and Room on the Broom.
NCircle is a subsidiary of Alliance Entertainment.
For more information, please contact:

Krystle Bersch, kryber(at)ncircleentertainment(dot)com
How To Sell A House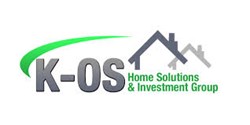 Dallas, Texas (PRWEB) August 17, 2013
The basic route of selling a property involves obtaining a listing through realtors that market this property to buyers in hopes of receiving a sale. Because some homeowners are unsuccessful selling, one investment company is now explaining how to sell a house with no realtor in Texas to owners of homes, according to a report by the RealEstateNewsWire.com company at http://realestatenewswire.com/we-buy-houses-dallas-tx-with-no-realtor.
The report published online details the services and steps that are required for a homeowner to complete an independent sale laid out by the K-OS Home Solutions company.
The for sale by owner strategies that are available are not always successful for property owners who apply the checklist of steps needed.
"A person can list a home that sits for months or years at a time with no succcess," a source for the RealEstateNewsWire.com confirmed. The push to find buyers creates more listing expenses for owners of homes that eventually sell.
The FSBO processes that are used in some parts of the country can differ depending on the resources that homeowners have. The K-OS Home Solutions company at http://koshomesolutions.com provides its services apart from what local realtors in Texas provide.
"It is now common in large and small cities for owners of homes to seek third party solutions to help sell homes when avoiding realtor contact," the source added.
The tips, strategies and plans that can be integrated by owners of homes when seeking a faster sale is part of a new series of examinations of popular companies in the U.S. by the RealEstateNewsWire.com company.
About RealEstateNewsWire.com
The RealEstateNewsWire.com company distributes its housing industry news and information to thousands of sources online. This company now provides one of the largest accessible resources for real estate information currently offered to buyers, sellers and investors on the Internet.
About K-OS Home Solutions
The K-OS Home Solutions company currently builds its Texas homes portfolio at a pace of up to 10 properties monthly that are sold or rented direct to residents in the state. This company has configured its services to provide immediate assistance to homeowners, home buyers and renters seeking homes apart from what is offered by average real estate agents.
Dallas Green Works Inspections
Dallas Green Works Inspections Reviews


Dallas
8117 Preston Rd
Average Rating: 4.5 out of 5 (19 Reviews)
Review by Jeff D.
Recently hired Dallas Green Works to do an inspection on a house that we're potentially going to purchase (also got the termite inspection done as well).
I…
Rating: 5

Review by sibille p.
The inspector Christine was very thorough and took over 4 hrs to do her inspection. She noticed problems with the house we had not even thought of (cracked…
Rating: 5

Review by Timothy P.
DGWI is exceptional, on multiple levels. First of all, they were kind, flexible, and understanding, and fit our last minute request into their busy…
Rating: 5


Bamboo Realty – Luxury Apt Locator & Full Service Real Estate Reviews


Dallas
Average Rating: 4.5 out of 5 (14 Reviews)
Review by Lisa L.
My husband and I are getting ready to relocate from Missouri to Texas and have had to rely heavily on our Realtor to help us find what we're looking for in…
Rating: 5

Review by Brandon C.
Bamboo leasing is great!
I just moved from Seattle to Dallas and couldn't have done it without their help. Rebekah took me from apartment to apartment,…
Rating: 4

Review by Josh C.
Sarah Jones was fantastic to work with. She really understood my wants and needs when it came to finding a place that supported higher standards for…
Rating: 5